The Mukuru on the Move team and I spent the first two weeks of this project dreaming of possibilities. It is one thing to discover — discovery is scientific; with its empirical merits it justifies itself and remains visible for all. Although it can be disputed, fact has its own way of standing alone like a beacon in the distance shouting, "Do something!" The PICHAFA Pilot Workshops are years of such work embodied in data gathered from communities in which Health is a basic need. Asset Mapping facilitated IHP's discovery and articulation of the opportunities available for Nairobi's informal settlements even in light of the deficiency within these communities. Moving it from facts and figures becomes the next big assignment for the IHP team.
Putting lives into numbers, charts, and entries is definitively a difficult process. It exposes how truly ineffective any community health intervention effort sometimes is, despite years of research and investigation. It reveals the powerlessness of being armed with data that is changing daily and communities who need and expect immediate results. It is this reality that the team working with IHP has to face this summer. With more workshops being done, the work is slowly beginning to take shape and analyzed data begs for something else to happen. As with most research programs, there exists a small window in which transition can happen before constructive information becomes stale or remains unused. The CHAMP [Community Health Asset Mapping Project] program is exactly at this place, where the clients (Lea Toto) wield information that, when activated, could change the face of the communities they serve, but if not could require updating. So dream we did, discussing possibilities, strengths, weaknesses, and failures. We talked about everything from the changing government structures and how they have affected community health, to how the political landscape has jarred the economies of the poor.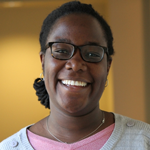 Sheila Otieno:  Sheila is a Kenyan citizen and has returned home to Nairobi this summer to work with IHP's long-standing community health assets mapping program.  She is working with our Kenyan partners to employ the mapping methodology to identify key community health assets that can support the medical and psychosocial needs of HIV-positive adolescents growing up in eight informal settlements around Nairobi.